Source: Kim Hyung Jun Official Korean Website
Chinese Trans:
h妞@初心-金亨俊中文网
English Trans: http://cllslam10.blogspot.com
Pls repost with credits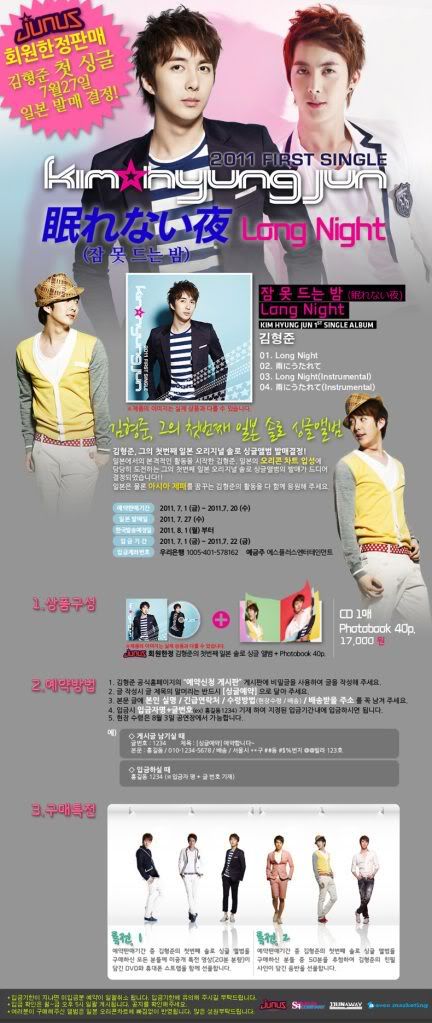 Kim Hyung Jun 1st Japanese solo single album (Long Night)
01. Long Night
02. Drenched in Rain
03.Long Night (Instrumental)
04. Drenched in Rain (Instrumental)
Kim Hyung Jun, his 1st Japanese solo album sale decision!



Being officially starting his Japan activites, Kim Hyung Jun, is imposing challenge to the Japan Oricon charts with his new debut solo single, will now be on sale!


Not only in Japan but in Asia!

Pre-order period: 01 Jul 2011(Fri) ~ 20 Jul 2011(Wed)
Japan Sale date: 27 Jul 2011 (Wed)
Korea Scheduled Delivery Date: 01 Aug 2011 (weekdays start)
Money Transfer Period: 01 Jul 2011(Fri) ~ 22 Jul 2011 (Fri)
Bank Account No: Our Bank 1005-401-578162
Account Holder: Splus Entertainment Company



1. Product Description

Junus member - 1 Kim Hyung Jun 1st Japanese solo single album + Photobook(40p)




2. Method of Pre-order:

(1) Kim Hyung Jun official website "Pre-order Application Message Board" if have a rather important message, please use a prominent topic to indicate on the message board.




(2) more prominent subject of the topic, please be make sure to indicate the [single pre-order] likewise.




(3) The contents of the message must indicate [your real name/contact number/ Collection method (onsite collection/ express delivery)/ Delivery address]




(4) When remitting the money, remittance by name + message board number (eg. Seo Hyo Rim 1234) recorded within the time specified so that remittance transfer can be successful.




(5) For onsite collection will be on 3 Aug 2011.




3. Purchasing Important Points

(1) During the pre-oder period, for those who bought Kim Hyung Jun 1st solo album will receive the unreleased videos footage therefore the package consist of DVD and handphone strap (this package is only given to 20 random fans)




(2) During the pre-order period, when buying Kim Hyung Jun 1st solo single album for the lucky 50 fans who were picked will get Kim Hyung Jun personal autograph album as a gift.