Now there is a poll for reader's choice "which Korean celebrity makes the best cover for KanFun Japanese Magazine"
Voting period
: April 25,
2012
May 21,
2012.
Voting link:
http://topics.jp.msn.com/kanfun/vote/
Kim Hyun Joong has been on the cover of three Kan Fun issues:
How to vote:
Voting result up to now: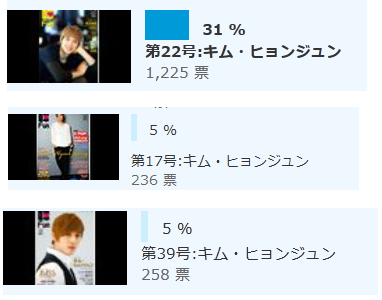 April 26, 2012
Posted by Unknown
at 9:54 PM
0 comments

Posted by Unknown
at 8:03 PM
0 comments

Posted by Unknown
at 7:41 PM
0 comments

Credits:
www.kbs.co.kr/drama/sentfromheaven/index.html
Re-post with full credits.
Posted by Unknown
at 7:40 PM
0 comments

Posted by Unknown
at 7:24 PM
0 comments

Now there is a poll for reader's choice "which Korean celebrity makes the best cover for KanFun Japanese Magazine"
Voting period
: April 25,
2012
May 21,
2012.
Voting link:
http://topics.jp.msn.com/kanfun/vote/
Kim Hyun Joong has been on the cover of three Kan Fun issues:
How to vote:
Voting result up to now: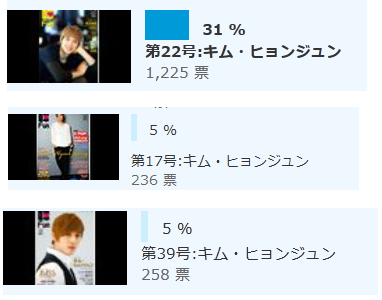 Credit: http://www.weibo.com/dfazen + http://www.weibo.com/dfazen'
Posted by Unknown
at 6:31 PM
0 comments

Posted by Unknown
at 6:29 PM
0 comments

Posted by Unknown
at 6:28 PM
0 comments

Credits:
Thefaceshop
Taiwan@Fb
Re-post with full credits.
Credit:The ParkJungMin FC
Posted by Unknown
at 11:43 AM
0 comments

credits: MYSHERLINDA501@yt + FlwriderTV @ http://vimeo.com/41015114
Photo credits as tagged, thanks.
By LazerKim: May I start this article by appreciating a Kim Hyun Joong fan who left a link in my comment box last April 24, to share about the news from Jakarta Post. She did not leave her name, and I can only thank you for your concern, she was bothered and I understand what she wants me to do about the news. I would like to appeal to other fans, if you happen to read any criticism to Kim Hyun Joong, I would appreciate it very much it you can share it with me, so that I can do something about it.
My point is simple, Hyun Joong has no way to defend himself against his critics, specially news coming from the internet. And these news are written in English and I think it would be better for his international fans to defend him. I'm sure he's not even aware that he's already being stubbed at his back by his critics. I do hope you will understand, that Hyun Joong is on his way preparing for his Asia Tour and as I mentioned in my previous articles, critics are bound to mess around just to put him down.
My apologies that I can not just ignore those criticisms, specially coming from reputable broadsheet newspapers. Internet is now so powerful, that one news item can either make you or destroy you. And I know how Hyun Joong fans feel every time they read anything that criticizes Hyun Joong, because I do feel the same way.
I can let go, why not, but I have to say my humble piece of thoughts first and foremost, to Hyun Joong's critics before I can brush it off my shoulders or before other new fans misunderstood. I am not a professional writer, I'm just a simple new fan of Hyun Joong who writes all about his story and this is the only way I can defend him.
After I have posted my article yesterday, I did a little research about the news writer and the publisher. The article "Korean Idol Plays it Safe", was written by a Singaporean name Rachel Boon, she's a professional writer, whom I find a bit ill mannered in terms of writing that article. And had under estimated her possible readers, who happens to be Kim Hyun Joong fans who are smart.
The Straits Times a Singaporean broadsheet newspaper and this article was posted at the Jakarta Post, a reputable broadsheet Indonesian newspaper. Needless to say how this article connects, it's because Hyun Joong will soon be in Singapore and still hoping a visit from him in Indonesia.
An Indonesian fan wrote in my comment box that she feels a shame that a reputable newspaper from her country would post such article. Now this goes to Indonesian fans and Singaporean fans, just as much Hyun Joong is being loved by different nationalities all over the world, he has that much critics too all over the world. Don't let that shame sink in to your system, instead let it be your strength to protect the Prince. We are hurt because we love him so much, we respect him, and it is so unfortunate that these people criticizing him doesn't know him at all.
I watched Hyun Joong documentary part 3, and I can imagine him being back to his studios. From the documentary, it was said that, shortly after confirming his Asia Tour Hyun Joong is diligently practicing very hard for the up-coming Asia Your performances. His dance moves or routine needs a lot of stamina and energy so even professional dancers also feel the strain.
A brief break after hydrating his throat, Hyun Joong would just take a little breather, and after some minutes, on his toes again as he continues with the rehearsals. He just goes on and on, that even the Artmatic group captain would tell Hyun Joong that he also needs to take a rest, Hyun Joong will. But while resting, he's singing!! He's just so restless and wouldn't waste time. After his dance rehearsals, Hyun Joong moves to the other room which is a gym and had his training for two hours.
Hyun Joong spends more or less seven hours in his dance studio, two hours at the gym and hit the recording studio for five hours depending on the out come of his recording. He literally works his guts out to achieve perfection. He wouldn't mind repeating this routine over and over again until he satisfies himself. Hyun Joong is just tireless, and not to mention his presence during production meetings that he seriously been attending since he pays attention to every details of his Asia Tour project.
These are the matters he has to undergo in production preparation, which involves his physical and mental ability to be able to achieve a successful show production results. I still believe that anything Hyun Joong works hard for, his formula in attaining perfection turn out more than what he expects. He might encounter internal problems during the preparation, and those matters do happen at times.
This creates stress since Hyun Joong does his projects hands on, it's a responsibility he has to manage, but it's a worthwhile experience for him. Anything Hyun Joong work on is something he values because it's not only his talent that makes it effective but his dedication to it. These are the things we do not see as it happens behind the scene.
Hyun Joong's road to stardom is not an easy one. The further he steps up, the more trials he will encounter, and these trials are his learning process. In every door that opens for him, he takes all his chances as if it is his last since Hyun Joong is constantly trying his best to improve himself. There are still a lot to look forward for this year as Hyun Joong plans it out and materialize. And while he's doing his best, there may be obstacles, if not within his work place, then outside of it.
And these are his detractors, which are like termites hidden in the dark that you barely see but can multiply as fast, called rumors. That you do not know where it is coming from these termites have only one aim, and that is to destroy. This is where the alien soldiers should come in. Are you running away from those termites? No of course not, face them before they multiply further and fleet them to eliminate until it dies.!!!
As Hyun Joong shines, all eyes are at his movements. Specially at this time that his popularity is still growing bigger around the world, it is very likely that others may be extremely jealous of his success. Since I don't see any rivalry among the Kpop idols, other fans of another celeb may be envious and this is natural in showbiz. The media is just so greedy to get their scoop or news about rising celebrities. His critics will just be roaming around finding ways to destruct Hyun Joong's activities.
These are just a few obstacles that Hyun Joong may encounter. While we prepare for his every event, we happily wait for his visit to our respective country, at the same time let's keep our awareness open. I'm writing this article not to alarm you but to be aware that there will always be something to destruct his good works and plans. This is his road to stardom and let's be with him as we cast out obstacles along his path. While Hyun Joong is doing his best working hard to bring out everything he has got for his fans, let's do our share in supporting him all the way and protecting the Prince.
We fans may have differences which is just natural but I still believe we can unite ourselves in Protecting the Prince and this is the most important thing above everything else. The respective countries in his itinerary for the Asia Tour Fan Meeting, Singapore, Taiwan, Hong Kong, China and still waiting for the chances for Indonesia and Thailand please do take care and Protect the Prince.
Enjoy yourselves with Hyun Joong as he creates a memorable event that you will always remember. We fans not enlisted in his itinerary will be watching over him from up far. We may not be with you but we will be praying for Hyun Joong's safety and his fans. We will be praying for the success of this Asia Tour Fan Meeting event as it transpires.
Hyun Joong's road to stardom may sometimes be rocky and bumpy. We fans, can help each other to lighten up any possible burden that may cause Hyun Joong's bumpy road. While the Prince works hard for his fans, let's do our share in eliminating those obstacles. The termites and other insects has to be fleeted away, if you know what I mean!!
As I mentioned earlier if in case you happen to read articles or write ups against Hyun Joong which may also causing pain to you personally, please don't hesitate to share it. I will always be here for you to hear you out. You may twit or email me as other fans do, specially the new fans who are shy to leave message at my comment box. You are most welcome to share with me and I will respond to you as I normally do to other fans. And with that, I'm done with my daily dose again!!
Kim Hyun Joong had chosen this Road to Stardom, and needless to say as his fans will take the same road with him, to bring him up to the highest place of Stardom……
Kim Hyun Joong Schedule: Asia Tour Fan Meeting 2012
Posted by Unknown
at 11:39 AM
0 comments