Source: TV Report
Korean ~ Chinese Trans:
玉米的抱枕 @
水之莲生许永生中文网
English Trans: http://cllslam10.blogspot.com
Pls repost with credits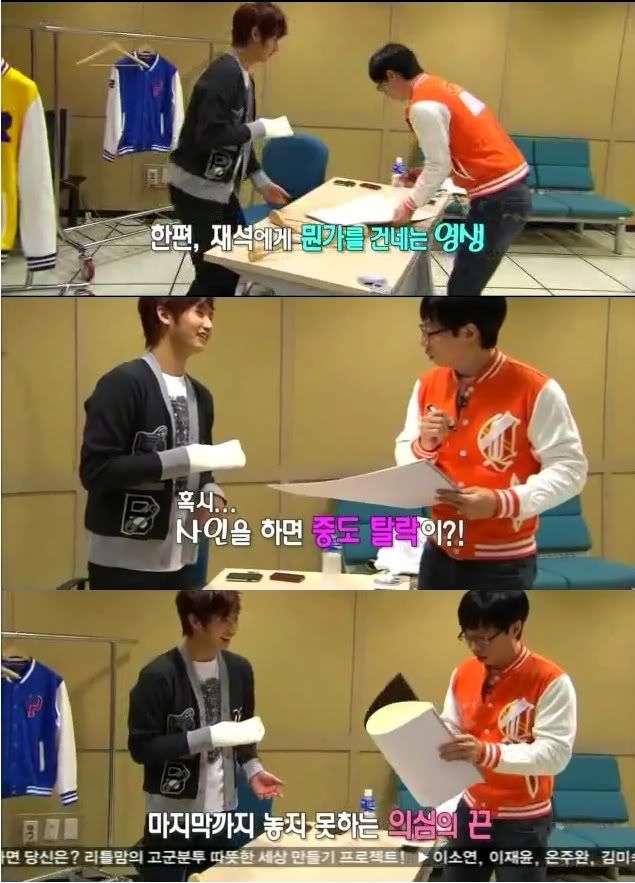 National MC Yu Jae Suk had Skeptical Outburst. On 8th May the broadcast of "RUNNING MAN" program, the cast members were trying to do a mission thus went to the the program special guest Heo Young Saeng, the postion of where Young Saeng was, was at SBS Open Hall.
During the recording, Heo Young Saeng said that one of his relatives' brother really like Yu Jae Suk very much, thus he wants to help to get his autograph. Although Yu Jae Suk did gave Young Saeng his autograph in the end, but he is still skeptical asking: "Perhaps if I did not signed, I will get eliminated halfway?" regarding this Young Saeng felt wrongfully accused stating: "Shouldn't you go after signing?" With this Yu Jae Suk is still very suspicious and continue: "Why did you suddenly ask for my autograph?"
On the other hand, in the program Gary betrayed Song Jihyo so as to become the winner which audiences will be looking forward to.