Thanks rainaftershine for posting all these vids on her blog ^^
Drawing -
Interview/Talk -
Taking photos -
Singlish lesson -
June 18, 2011
Thanks rainaftershine for posting all these vids on her blog ^^
Drawing -
Interview/Talk -
Taking photos -
Singlish lesson -
Posted by Unknown
at 10:36 PM
0 comments

Posted by Unknown
at 10:34 PM
0 comments

Posted by Unknown
at 10:34 PM
0 comments

Credits: XINMSN
Shared by http://i-kpoplovers.blogspot.com
Posted by Unknown
at 10:32 PM
0 comments

Repost from http://cllslam10.blogspot.com/
PLS REPOST WITH CREDITS
17th Jun... Kim Hyung Jun FanMeet Singapore.. Suntec City Rock Auditorium.. 7.30pm
A day of fangirling for me. Reached Suntec City at 4pm, met up with the SGTS gals for early dinner. After which we went up to the venue to meet up with the rest of the fc gals.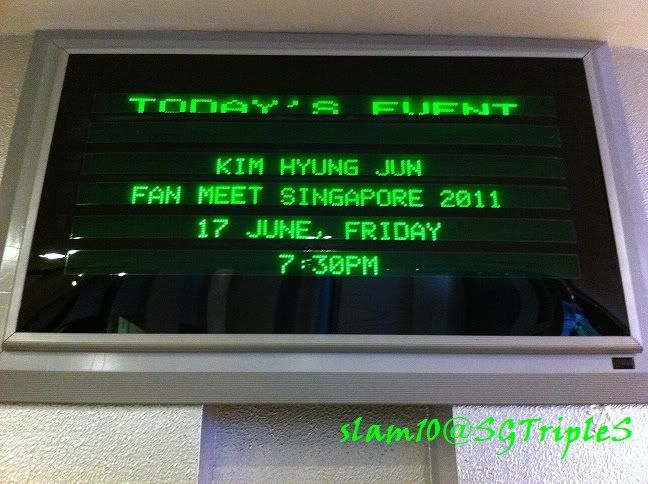 After which, slowly the crowd suddenly came in and the media too. When all our SGTS members were all in, we started taking our own pictures with our charmed banner which were signed by all 5 boys. Just then the media, OMY.SG, XinMsn, 8Days, iWeekly all came and talked and interviewed us. For me, I was interviewed by 8Days magazine regarding our fanclub and also the FM
.
For me, I feel that HyungJunnie's FM for yesterday was even better and more interesting as compared to the one that was held during last Aug. Maybe he is much more familiar and at ease with himself. Esp since he knew Ah Ken from Radio100.3FM who is the MC for the event. Below is the fancam of the hilarious interview by my SGTS unnie.
(yoonjihoon88 @YT)

.
Ken: Any artiste that you wish to work with?
Ken: What about JungMin, I think I heard JungMin.
HJB: Huh? JungMin?? He's not sexy, not handsome, not cute. He's JungMin, HORSE!
Ken: What is the things you like fans to say about you?
HJB: That my songs are very nice!
Ken turned to the audience: So do you think his songs are nice?
Ken: Do you think he dance well?
Ken: Do you think he dance nice?
HJB to Ken: SHUT UP ~ !! *shy*
HJB point to Ken: Handsome meh?
Ken: Hey! Stop pointing at me!!
HJB to translator: Pretty sia!!
Translator: *embarrassed*
Still remember the PiroPrio with the bip that he tweeted when he Singapore? YES! It's Piro Piro with a customised made bip for Baby. I am sure that he love it cos he TWEETED A PICTURE OF IT BELOW once he reach the hotel! It was on his BED! haha. The Korean words mean :" Cute Piro Piro Yeah"
This is the original Music Video which we made and presented to Baby during the showcase on 17th June. Although it was edited by the organiser at the front part with a different music during the showcase, however, the fans' messages for Baby was not edited and the 2nd half of the Music Video Music was kept. We have also passed the DVD for this original Music Video to Baby so he would also have this version for his viewing!
Credit: SGTripleS @YT
The most touching of the showcase is this part. Looking at HyungJunnie expression when he was listening intently at the translator reading out our letter for him in korean. You can really see that he is really touched. Tears were forming in his eyes but he is enduring not to let them flow down.
Please repost with proper credits
It has been almost a year since you started on your solo activities. We have seen how you have grown, from SS501 maknae to a man who can make his own decisions and working hard to prove himself as a solo artiste.
We know it is not easy especially now when you have to be responsible, make your own decisions and take care of your family and HnB. You have tried your best at everything you do, whether it's a singer, composer, musical actor, compere, DJ or actor.
As your fans, we feel heartache for you when we saw how hard you try to do everything on your own and how tired you look. However, we feel happy and proud, that our SS501 maknae has proved that he can do well at anything he tries. Your solo album "My Girl" and "Oh Ah" is Daebak! and we also find ourselves laughing everytime we see you at Music high or in variety shows.
Please take care of yourself. Sometimes you may encounter setbacks or sad things may happen. We are worried whether you can pull yourself through these difficult times. But once again, when we saw your smile, we know that you have matured enough to look at things on the bright side. Everything happen for a reason.
Although Singapore is a small market, we are very grateful to you for coming here twice within a year, not forgetting your fans here. We love you and please know that whatever you do, we will always support you. No matter what other people say, please remember you have fans out there supporting you.
We hope your dreams would come true. Please stay happy always.
PS: We have a small wish. We hope that you can bring Musical Cafein into Singapore and stay here longer. It's really Daebak!
당신이 솔로활동을 시작한지도 거의 1년이 되어가네요. 우리는 당신이 어떻게 성장을 했고ss501의 막내에서 스스로 결정권을 갖고 솔로아티스트로의 입증을 위해 열심히 일하는 남자가 되어가는 과정을 지켜봤어요.
쉽지 않은 일이라는걸 우리도 알아요. 특히 책임감을 갖고 결단을 내리고 가족과 회사를 돌봐야 할 때 더욱 그렇죠. 당신은 가수로, 작곡가로, 뮤지컬배우로, 사회자로, DJ 혹은 배우로 당신이 하는 모든 일에 최선을 다했어요.
당신 혼자 힘들게 모든 것에 열심히 임하는 모습을 볼 때나 당신이 피곤해 보일 때면 우리는 팬으로서 정말 가슴이 아파요. 그러나 우리는 우리의 막내가 혼자서 모든 것을 다 잘 할 수 있다는 걸 보여주었다는 게 기쁘고 자랑스러워요. 당신의 솔로앨범 마이걸, 그리고 Oh Ah!는 대박이에요. 그리고 뮤직하이나 각종 예능에서 당신의 모습을 볼 때마다 웃고 있는 우리를 발견하게 됩니다.
건강 잘 돌보세요. 어쩌면 가끔은 좌절이나 슬픈 일과 맞닥뜨리게 될 지도 몰라요. 우리는 당신이 그런 힘든 시간들을 통해 스스로를 극복할 수 있을지 염려되기도 합니다. 그러나 다시 한번, 당신의 미소를 볼 때면 당신은 밝은 면을 볼 줄 아는 성숙한 사람이라는 걸 알게 돼요.
비록 싱가폴은 작은 시장이지만 이곳에 당신의 팬들이 있음을 잊지 않고 1년사이에 두 번이나 와 준 당신에게 우리는 매우 감사하고 있어요. 우리는 당신을 사랑하고 당신이 무엇을 하든지 언제나 당신을 응원하고 있다는 것을 알아주세요. 남들이 무슨 말을 하던 상관없어요. 당신을 응원하는 팬들이 이곳에 있음을 기억해주세요.
당신의 꿈이 이루어지길 바랍니다. 언제나 행복하게 지내세요.
PS: 작은 바람이 있어요. 당신이 싱가폴에 오래 머무르며 뮤지컬 카페인을 공연했으면 좋겠어요. 정말 대박이거든요.
And after the letter was read out, the trophy was also presented to him on stage. He read out the words in English :" You will always be our Number One. Saranghaeo. From Singapore TripleS". He was so happy that he kissed the trophy and even thanked his mum, kibum, even choco, etc.. It was totally hilarious! When Ken tried to take the box from him with trophy, he even tried to protect it and not pass to Ken,, haha. Our HyungJunnie, always can make us laugh! Am so glad he loved it! Again, hope that whenever he sees this trophy, he will remember his fans from Singapore and let it be a source of encouragement to him.
To me, this is FM is much more interesting and enjoyable than the one which was held during last Aug. Even though the autograph session did not turn out what we expected (we expected an actual real signature on the poster rather than a stamped one!) but still I must say I am proud to be SGTS, wearing our club tee, waving the green light sticks, sitting together with all the SGTS members, doing our fanchants, making HyungJunnie touched and happy at the same time.
When our MV was played, he was totally focusing on the MV and we can see that he is touched cos suddenly Ah Ken who was sitting beside him patted him on his back. And while the letter was read out to him, there was this like a kind of expression which is as if there are a lot of images flashing thru his mind... from the time his debut till now... all the hardships that he has been thru to get to where he is today. After that the next song, he started to sing is SS501's "UR MAN"! I was so stunned when I hear the starting of the song. He even can hit Saengie's high pitch parts! I really screamed myself hoarse during this song. I was totally overwhelmed by my emotions... my tears were choking in my throat... but still I did not cry... lastly when he came out with his encore songs, he and the dancers started playing around... he is real damn cute... can see that he has now start to get closer to his dancers.
Never did I disappoint with our boys, always been touched by them. Everything they do, the words that they say, the body language really shows how much they cared about their fans. They are always full of sincerity not putting up any false front. I am so glad that I attended this with my SGTS members, who can shared my laughter & tears regarding the boys. To this, I am really very thankful.
Posted by Unknown
at 10:29 PM
0 comments